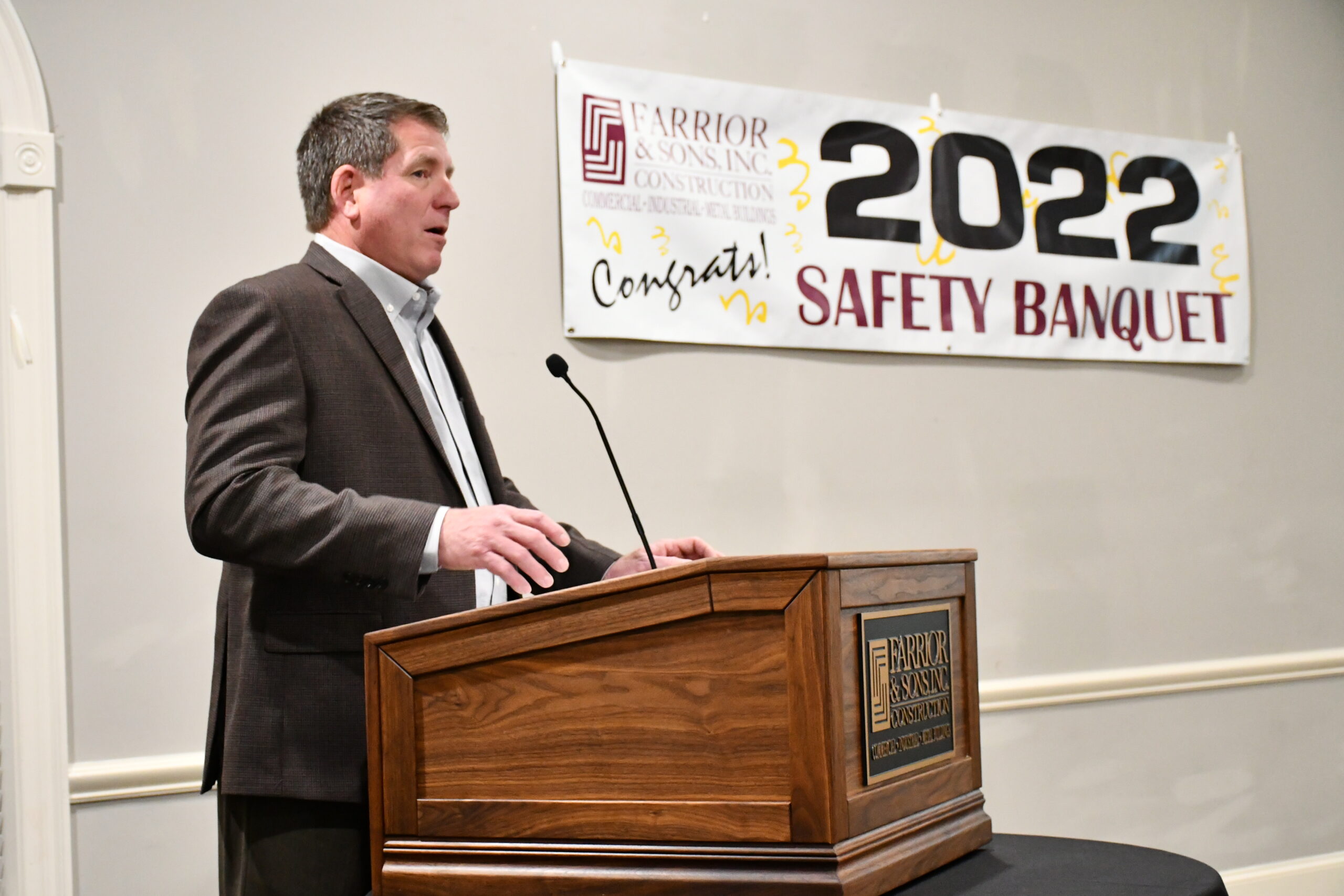 2022 Safety Banquet
January 26th, 2023
On Thursday, January 26th, 2023 we held our 2022 Safety Banquet at the Farmville Country Club. We hold this banquet yearly to celebrate our safety record from the previous year. As seen in the pictures below, each employee is able to bring a guest to join in on the celebration. The night consisted of dinner, a guest speaker, safety presentations, safety awards, service awards, door prizes, and 2 grand prizes!
Our guest speaker for the night was Patrick Rhyne. Patrick is the Safety Management Operations Manager with Selective Insurance. He has been with selective for 23 years, is a native to Charlotte, NC and graduated from Appalachian State University. Patrick gave a wonderful safety presentation focusing on how to promote safety within the workplace and at jobsites to keep costs down and help customers focus on embracing a culture of safety.
At every Safety Banquet we celebrate each employees safety record by giving them cash bonuses for each year they have worked safe. This year between the 22 employees eligible for safety awards(office employees are not eligible) there was $10,300 in safety bonuses given out, ranging from $300 to $1,000 per person! These yearly bonuses are just one of many incentives we give our employees to work safe.
The Safety Banquet is also our time to celebrate employee's years of service with the company. We celebrate employees after they complete their first year with the company and then every five years after that. This year we celebrated Morgan Farrior and Crystal Meador's first year with Farrior and Sons(They each received a Farrior and Sons shirt and a framed certificate). We also celebrated 5 years for Santos Coreas and Derek Williams(They each received a Farrior and Sons jacket and a certificate); 20 years for Roger Sutton and Scott Fussell(They each received a $500 gift of their choice and a certificate)!
Another way to show our appreciation for our employees safety record is door prizes! Every employee is eligible to win 1 of the 18 door prizes. The night is always capped off with the drawing for our grand prize. This year we had two grand prizes. The first being a hand made carving board won by Chris Cruz! The board will be engraved for Chris, he also received a meat cleaver and BBQ gloves.  The ultimate grand prize was a weekend getaway, which included a paid vacation the Friday of the weekend getaway, hotel, and $300 for any expenses incurred on the trip! This was won by Josh Sweezy!
Lastly, we celebrated the retirement of 3 wonderful employees; Tom Bausinger, Ronnie Bynum, and Pete Vick. These three have been an integral part in Farrior and Sons success over the past couple of decades. All three individuals have meant so much to the company, with the three of them working for Farrior and Sons for a combined 89 years! Thank you and congratulations on your retirement!